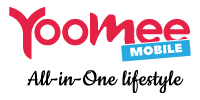 The application mobile ALL IN ONE is a " One-Stop-Shop " that makes it easy to the lives of its users while improving their purchasing power.
Users ALL IN ONE are entitled to an exceptional benefits package:
E

make Flash payments with discount;

T

transfer money for free;

A

Free calls and sms;

Non-Stop High speed data;
Chatting with elites;
With Your mobile application, perform transactions either directly in the shops, or online AND systematically accumulate discounts. granted by each of the partners ALL IN ONE. You can thus:
Buy your internet package;
Pay your water, electricity, Tv bill, etc...
Buy the products of your choice from our platform e-commerce;
Reserve your place on the bus or at a show;
Have your pizza delivered to your home;
Make professional meetings or private;

Etc...
With multiple features, ALL IN ONE integrates a e-commerce platform and digital communication tools. Some main functionalities :
Make or receive fast payments and secured with Qr-Code and Fingerprint
Synchronize with a bank account
Geolocate shops
View account balance
View promotional offers
View payment history
Manage your contacts

View other users' profiles
How does it work?
You download your application to Google Play or Play blinds and install it. From your application, you can pre-register by yourself. ...by revealing your identity. You will then go to one of our shops or partner shops to finalize your registration.
You then receive a password with which you start the mobile application for your first time. You need to change the password and now make all transactions from your account. "One-stop shop."
This application is the property of YooMee Mobile.
You can find more information on the website of Yoomee Mobile.